The Buddhist Channel, Feb 3, 2009
TAIPEI, Taiwan -- Taipei - Sheng Yen, one of Taiwan's four most respected Zen Buddhist masters, died of natural causes at the National Taiwan University Hospital Tuesday at the age of 79.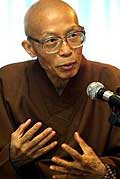 "He died of multiple organ dysfunction syndrome at around 4 pm (0800 GMT)," said a spokesman of the Dharma Drum Mountain, a Zen Buddhist centre established by the eminent monk.
Rated as one of Taiwan's 50 most influential people in 400 years, Sheng established the mountain retreat in Taipei County in 1989 to promote Zen Buddhism.
President Ma Ying-jeou said in a statement he was "saddened and shocked upon hearing the news" about the death of Sheng-yen, who the president said is "good at the use of language to touch people".
"The concept of spiritual conservation he advocated is not only religion but philosophy and attitude of living," Ma said, referring to the monk's relentless efforts to press for peace and a simple way of living.